Confession — I have an aversion to packed places and crowds. The thought of long lines, overpriced menus, and limited restaurant reservations has me running for the hills (OK — maybe more like home), when it comes to Valentine's Day.
This year, Charlie and I will cozy up in our PJs, watch a movie, and get a little cheesy with a home cooked pizza. Since saying 'I do,' we spend a fair share of time in the kitchen together (I know what you are all thinking — who have I become?) that serves as a soothing and bonding experience. It teaches us to be communicative, collaborative, and brings plenty of fun to a task that I oftentimes find cumbersome and mundane.
Without further ado, here are my must-have accouterments for crafting the ultimate pie for two or for anyone who loves to indulge with a few slices.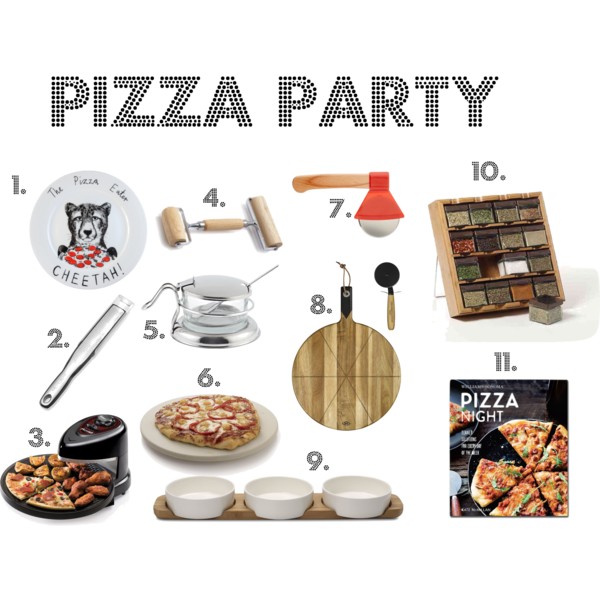 'The Pizza Eater Cheetah' Side Plate:

Jimboart has a collection of quirky dishes that will add a bit of sazz to your romantic evening.

Microplane Elite Rasp Grater:

This tool is a must to achieve that yummy gooey goodness mastered by the pros. Plus, it comes in handy for other grating duties such as oranges and lemons.

Presto Pizzazz Pizza Oven:

No need to preheat the oven with this sleek gizmo. Stick it in for just a few minutes for the perfect crust, cheese, and topping combo!

Norpro Deluxe Pastry and Pizza Roller: Have fun crafting the perfect dough (trust me, it's easy and much better than store bought) with this gadget.
Stainless Steel & Glass Condiment Server:

Forget cardboard boxes and paper plates — make your night in a memorable one and set the table in style with a nice condiment set that's perfect for any at-home soiree.

Pizza Grilling Stone:

This is a must for the gourmet in all of us! Pop it in the oven for that crunchy texture that really enhances many delicious flavors. Plus, it's easy to clean, store, and can resist up to 800 degrees.

Villeroy & Boch Topping Bowl & Tray Set:

I registered for these and they've already come in handy for entertaining. For a fun DIY pizza party, separate the different condiments and have fun by getting a bit competitive with a best pie competition!

DCI Ax Pizza Cutter:

Slice it up beautifully with this playful cutter perfect for the manly man! When Charlie saw this, he hinted he wanted one…so I can attest that has the potential of becoming a favorite with the fellas.

Gentlemen's Hardware Pizza Cutter & Serving Bowl: 

Don't lie — you are doing it for the 'gram! Well This 3-in-1 comes with a cutter and board that will pretty much ensure the perfect slice & and a beautiful photo composition worthy of 1,000 likes!

Kamenstein Bamboo Inspirations Spice Rack: 

Spice things a little bit with this refillable rack that will keep your kitchen tidy and all condiments in reach. It's super versatile, since it can be hung, displayed on a counter top, or tucked away in a drawer. 

Williams-Sonoma What's For Dinner — Pizza Night Cookbook: Aside from mouth-watering pictures, this guide offers plenty of meal ideas for pretty much any occasion. Whether you are craving a classic favorite or a gourmet dish, there are plenty of recipes for everyone to enjoy!
That's how I'm planning to spend my Valentine's Day with Charlie, unless he has other plans in mind!
Ryzenberg on, is Signing off