Let's face it, most of us have a pretty packed medicine cabinet — filled with four kinds of body lotions, travel-sized potions, and extra dental floss. Recently, I 'Kondified' my medicine cabinet, as I am inspired by Japanese author Marie Kondo's art of decluttering, and got to the bare necessities of my beauty stash.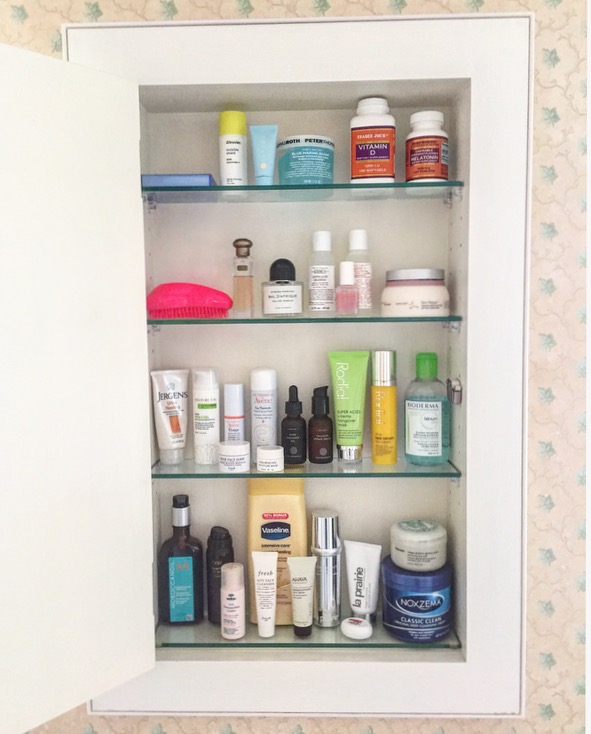 Daytime Favorites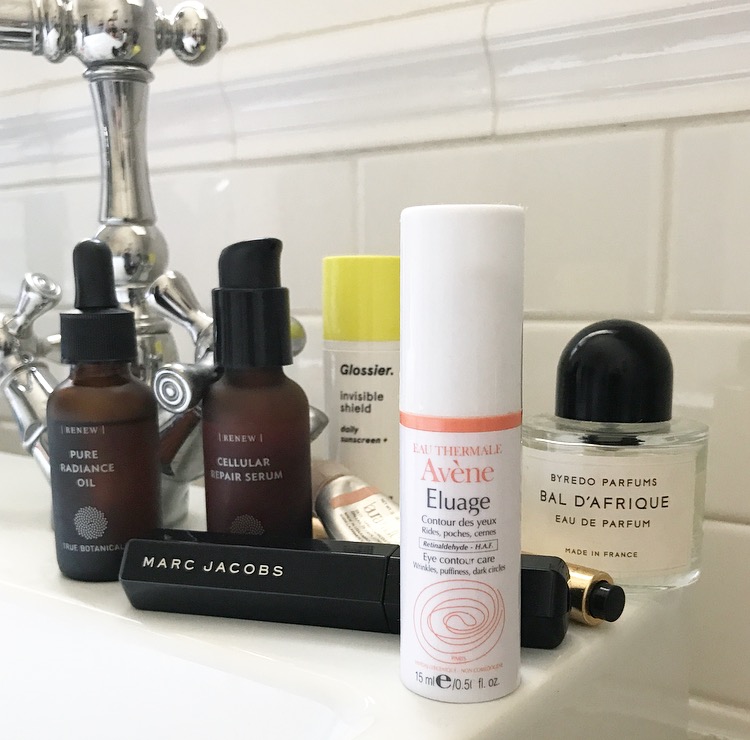 Summer temperatures can be brutal, so my regimen consists of various products that help my skin stay rejuvenated and glowing around the clock. I start (and end) my days with a few simple steps, and I wear no makeup, unless I absolutely must have to.
I often use different cleansers and lately, Indie Lee's Rosehip Cleanser tops the list. It gets rid of impurities and leaves my face feeling so fresh and so clean. Another cleanser in heavy rotation is Aesop Parsley Seed Facial Cleanser. I follow this with a good toner, and avoid anything with alcohol. At the moment, my favorite is T.N. Dickinson's Witch Hazel — as it's 100 percent natural, soothing, and keeps my skin happy. The best part, it's under $10, so this is a mega score. At night, I opt for Bioderma micellar water (the French are masters of skin care), as I prep for a good snooze.
A few months ago, I switched face moisturizers for oils, and they are working wonders on my skin. True Botanicals and Rodin Olio Russo are hands down my favorites, as they are packed with antioxidants and Omega-3 fatty acids, and deeply nourish sagging skin and help protect the barrier that keep toxins out. SPF is a must, and I gave Glossier's Invisible Shield SPF 35 a try. This clear gel-like lotion quickly absorbs into skin without that sticky feeling or white residue. It gets rid of pollutants and fights free radicals.
For the eyes, La Prairie Caviar Luxe Eye Cream and Avene Eluage do the trick when it comes to eliminating dark circles, and help combat swelling and puffiness. One area that I have become particularly self conscious lately is my neck, as I recently noticed a few lines, so I took matters in my own hards and found L'oreal Revitalift Triple Power Moisturizer. I began using this on my neck two weeks ago, and I am impressed with how quick results showed, and noticed the lines are less visible and my skin texture looks and feels a lot smoother.
Serums, how can I forget serums — True Botanicals Celular Repair Serum contains algae and sea week, two vital ingredients that help restore and plump the skin for a dewy youthful look. Plus, it fights the signs of aging and diminishes wrinkles. I've used it nightly for almost four months, and results were visible almost immediately.
P.M. MVPs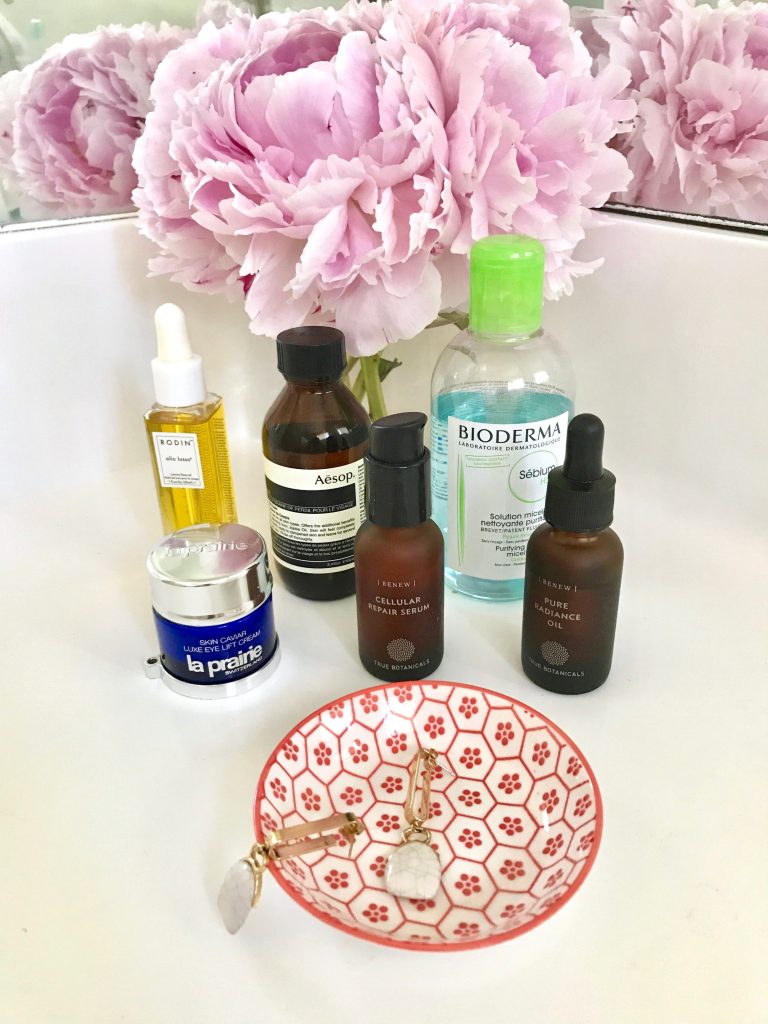 SHOP MY PICKS
Sunscreen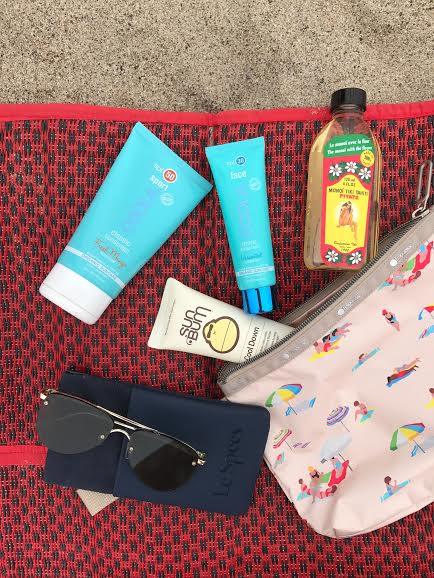 Now that the dog days of Summer are in full force, it's time to lather up. Though I wear SPF year round, I step up may game during the warm months, considering how much time I spend outside — whether it's hiking, chilling at the beach, or lounging by the pool. Coola's SPF 30 for the Face and SPF 50 for the body are my go-to sunscreens, as they are light, fragrant free, and are really powerful. Sun Bum's After Sun Lotion is the perfect potion to help my skin feeling hydrated and healthy post sun or when feeling the dreaded sun burn.
Monoi Tiare has been a summer skincare staple since 2006, when I discovered it while doing a TV segment at the Standard Hotel in Miami. This South Pacific oil blend with quite a cult following has been around for 70 years. It contains pure coconut oil and tiare, the Tahitian gardenia. Polynesian women swear by this oil blend, as it moisturizes, softens the skin, and helps prevent sun burns and mosquito bites.
SHOP MY PICKS
Hair and Nails
The Pop Sugar Must Have Box for June was chock full of fantastic beauty finds that quickly became my Summer favorites. Captain Blakely's Mermaid Sea Salt Hair Spray gives texture and volume to my mane, and it smells delish. The aloe vera gel and organic kelp extract help the hair stay smooth, healthy, and glowing, without that crunchy residue.
NCLA Cuticle Oil revitalizes my nail and skin around it, and prevents from drying. I often tend to pick my nails, so this oil is certainly helping avoid having chapped cuticles, and the sweet pumpkin scent gives my tips an indulgent feel.
Want your own Must Have box? Use code SHOP5 and get $5 off your first purchase.
SHOP MY PICKS
What are some of your favorite summertime products — now is the best time to do a little *Thank you Pop Sugar for sending  me the June Must Have Box to test and review. All opinions are my own.
Ryzenberg On, is Signing Off