Perhaps it's the cooler temperatures that make me a nester, as I tend to entertain more during Fall, but now that Charlie and I moved into our new apartment (a total unexpected occurrence, by the way), we look forward to many gatherings chez nous. Housewarming perhaps? We are a long way from that, though it gives me motivation to get the place presentable.
When it comes to  hors d'oeuvres, one thing it's pretty universal: Cheese platters are crowd favorites, and in many cases an ice breaker, since many love sharing their undying love for them. Even if dairy is your foe, there are plenty of combinations sure to please every palate.
There are certain tricks of the trade that turn this low-maintenance appetizer into an art form.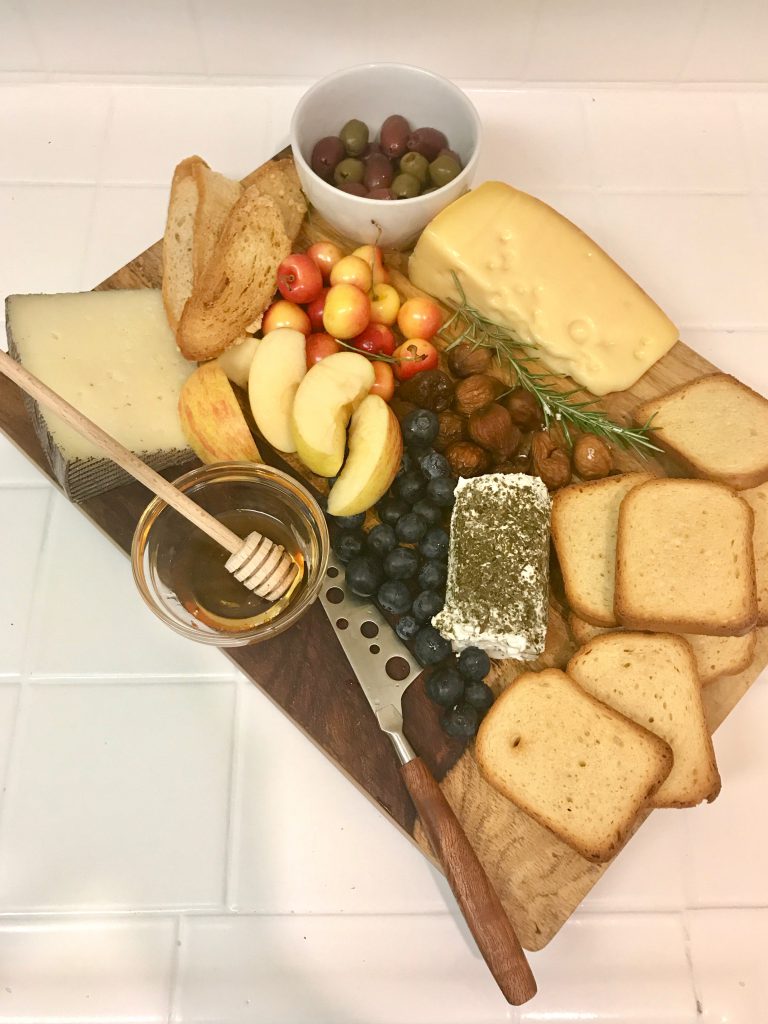 THE ABC's OF CHEESE
The Right Combination: Many swear by the 'one soft, one hard, one blue' strategy, but going rogue works, as long as it's thought out. That's easier said that done, considering all the delicious options in abundance. Offer a variety of milk types like goat, cow and sheep, to balance out the different textures and flavors in a way that won't overpower the taste buds.
The Perfect Pair: A soft Camembert with a smoky Gouda works wonderfully, as they compliment each other. Fontina is another favorite, due to its subtle, yet rich flavor. Recently I created a spread using Manchego, Jarlsberg, and herbed goat cheese, along with Rainier cherries, honey, apples, figs, and blueberries — all of which combined and brought out a delicious melange of sweet, savory, tart, and smoky.
The Expert Touch: If you feel overwhelmed, don't fret. Go to your local cheese shop, farmer's market or deli counter and ask for advice. The pros will guide you through the ins and outs of mastering the ultimate smorgasbord. Also, don't go overboard — the last thing you wanna do mid-soiree is grab a bottle of TUMS.
The Big No-No: One way to ruin a spread is serving cold, hard cheese. Let it breathe for about an hour before serving, so the oils are absorbed. The texture should be creamy once the party is in full force.
ADD THE ACCOUTREMENTS
Meats: Elevate your board into charcuterie status with fan favorites like salami, jamon Serrano, and prosciutto. If going gourmet is up your alley, add a rustic pate or duck terrine with a little black pepper.
Toast: Mix a variety of crackers, bread sticks, or sliced crostini for the perfect bite. One of my favorites is a simple crunchy baguette with an olive oil drizzle, which keeps it simple, yet decadent.
Nuts: The crunchiness of nuts adds a nice contrast to any spread. Marcona Almonds are definitely a top pick, since they are easy to snack on and taste delish with a pinch of sea salt. Pair Pistachios with creamy light cheeses and if you want a sweet touch, definitely go for pecans.
Honey/Jam: If sweet sides are more your jam, go for a rich chutney combined with an aged cheese. Creamy textures are perfect with honey, and quince paste (membrillo in Spanish) has a jelly-like consistency that can be cut into little pieces.
Olives: Since the only way to get olives ready for eating is to brine them, their saltiness, combined with their overall "subtly robust" flavor, is the perfect compliment to any cheese board – particularly those with a Mediterranean flair.
Fresh and Dried Fruits: Take your pick from what's in season. For example, use cherries and peaches during the Summer, and figs, apples, blueberries, and pears for that Fall feeling. Grapes are always a safe bet.
THE PRESENTATION
Make it Instagram Worthy: This is my favorite part and it's when the creative juices kick in. Slice the cheeses in different shapes so they're easy to nosh on, and add nuts, fruits and even a sprig of rosemary. Fruits are great and let you add natural, beautiful color for that wow factor and a picture perfect moment for the 'gram.
SHOP MY CHEESY FAVORITES

Tool Time: Use a separate knife for each cheese, like a sharp pick for the firmer types, and a spreading knife for gooey, melty type. Another helpful tip, label your choices, so no one is caught deciphering each variation.
There you have it — a nice little spread to impress this holiday season. Plus, the leftovers will come in handy for a yummy tuna melt or grilled cheese.
Now tell me, what's your favorite cheese plate combo? I am always looking for ways to get inspired, so go ahead, make my day and let us know your tricks of the trade.
Ryzenberg On, is Signing Off