You are probably wondering (I hope) what happened to me, but if you follow me on Instagram, Twitter, Facebook et al — you are fully aware that I recently relocated from foggy San Francisco to sunny Los Angeles and it's been quite the journey.
Alas, I took a small hiatus to unpack, get a new car, settle in and well find some work and with a few of those things out of the way, I now have a little bit of free time to start the dog-and-pony up again.
So get ready for incredible sartorialisms, some home decor ideas as I furnish my new LA abode, fantastic local gems from both the Bay Area and Southern California and some fun and quirky video collaborations — as it's all coming to the blog this fall.
But for now, let's do a little bit of shopping because that never hurts anyone (well, perhaps your wallet and bank account). Though I am in a serious fashion shopping moratorium — I mean, I am in the midst of furnishing a new pad, I can't help it but salivate at some of these incredible sale pieces but guess what, you can get my picks too and best of all for 25 percent off.
So Ladies and gentlemen, start your engines and act quick because this incredible opportunity ends at midnight on Thursday, Oct. 16!
Ryzenberg On, is Signing Off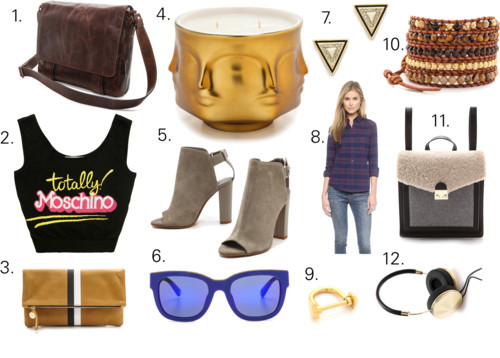 1. Frye Logan Messenger Bag: This is the perfect bag to carry around all of your goodies. It's perfect as a laptop case or even just as an everyday tote. Bonus, it's timeless — so this is a look at will work pretty much every season.
2. Moschino Knit Tank Top: Been dreaming of this playful collection since Milan Fashion Week — It's fun, playful, feminine and so nostalgic of my childhood world. Be a Barbie girl in your own Barbie world.
3. Clare V Supreme Fold Over Clutch: No list will ever be complete without a little Clare V! I've been obsessed with this brand for years now and since I live in Los Angeles now, it's fantastic to have the flagship shop within miles from home. Let's just say these precious pouches are perfect for date night, fun adventures and travel.
4. Jonathan Adler Muse D'Or Candle: Now that I am in a new home, I need all the fun accessories to jazz up my space. This candle from Jonathan Adler not only smells divine, but also brings a fun vibe to any ambiance. Plus once it all burns reuse the pot as vase or just a fun accent piece.
5. Vince Addison Peep Toe Booties: These stunners might be my weakness — I still have until tomorrow at midnight to get them! Vince, why do you do that to me?
6. Etnia Barcelona International Klein Blue Sunglasses: So fun, chic and different and now that I am surrounded by sun, they are a perfect sartorialism!
7. House of Harlow 1960 Triangle Stud Earrings: Love the Art Deco feel of these earrings and they won't break the bank — BOOM!
8. Shades of Grey by Micah Cohen Standard Button Down Shirt: The perfect fall staple to dress it up or down. Definitely I'd have in my closet.
9. Rebecca Minkoff Barbell Ring: A fun piece to add to any finger and best of all, it won't break the bank!
10. Chan Luu Beaded Wrap Bracelet: You all know I am all about a good stack and love everything from this brand! Though it is a bit steep on the price it's 25 percent off so it's worth splurging 100 percent.
11. Loeffler Randall Shearling Lock Backpack: Shearling is fun, chic and cozy for fall and will take any preppy ensemble to a whole new level of glam.
12. FRENDS Taylor Headphones: I've been eyeing these beauties for a while and since I travel all the time, they are perfect for those long flights and hours at the airport — not to mention the perfect glitzy companion for a beach run all decked in black and gold.
SHOP MY PICKS