Oh the carefree dog days of summer, we spend too much time outside, get a bit of a sun kissed look and feel that fresh air around (that is, if you are not stuck in a big metropolis where it stinks and the heat feels unbearable).
But now that I got your interest and we are in the subject of sun, I give you my go-to products for outdoor skin protection. Since I now call Southern California home, I am a regular the beach, enjoy long hikes, outdoor yoga, and exercise — yup, I am also wondering, who have I become.
These beauties below are my must-haves for the warm months, because they have a high SPF, offer incredible protection and will not turn me into a lobster.
Here is a true story, when I was an irresponsible sun worshipper back in college, I fell asleep on the beach in Peru and suffered 3rd degree burns on one side of my face complete with blisters. Let's just say it was a lesson learned and because of that incident, some of my friends called me 'Scar Face!'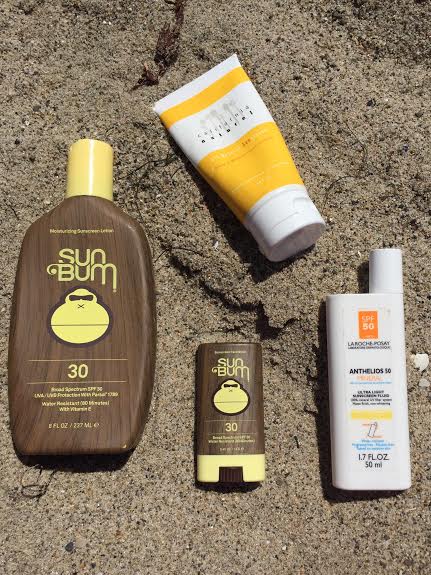 Sun Bum Sun Stick & 30 SPF Sunscreen Lotion: This Florida-based sun care company offers a variety of products, ranging from lotions to cool down sprays, even shampoo and conditioners. They apply easily and offer incredible protection and enrich your skin with vitamin E. Just remember to re-apply since lotions tend to dilute with salt water and sweat.
California Naturel All Natural Sunscreen SPF 30: I've been using this skincare line for more than a year  and I am hooked. Not only is it great for sun protection, it's also a great moisturizer made from natural ingredients like coconut, flower extract, and grapes, so it keeps my skin from getting dry and flaky. Be sure to also check out their lip balms, serums, and gels.
La Roche-Posay Athelios Ultralight Sunscreen SPF 50: This European wonder always comes with top marks from estheticians and doctors. They are on the forefront when it comes to research and understand different types of skins and textures. If your skin is more on the sensitive side, this potion will certainly works its magic.
When it comes to sun care, test it beforehand. Like normal lotions and skincare, not all skin is created equal so before lathering up, read the ingredients, test it in your hand, and make sure it's all clear.
So now that you've got all the bases covered, go out there and get some sun.
Ryzenberg On is Signing Off
Disclaimer: This post is sponsored by nobody. I picked these products because they work on me and when I use products, it mostly is because I firmly believe in their message and results.
SHOP MY PICKS: