I know there are a plethora of gift guides out there, but here is the one that really matters — my picks! These ideas for any woman in your life are pretty much a guarantee to make to make her gifted in more ways than one.
A strut-tactic pair of heels, a Chloe bag, a little bit of Diptyque, dainty jewelry, bold prints are a few of my favorite things.
Below are the ultimate picks perfect for pretty much every gal on your list and even better, there are some budget friendly alternatives — FTW.
Enjoy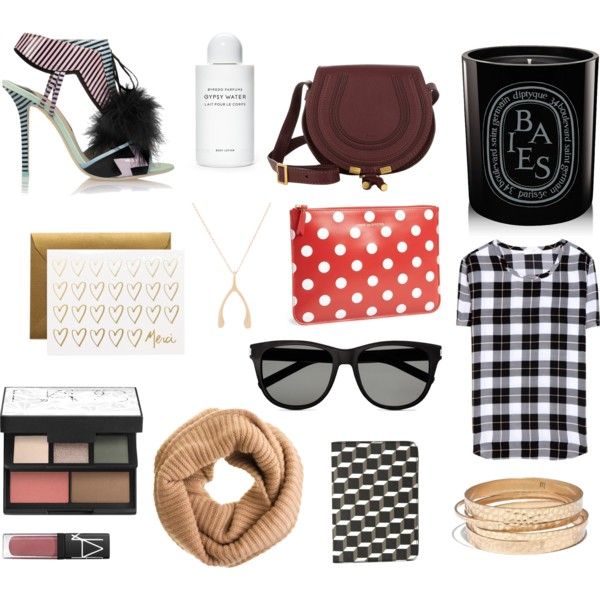 Sophia Webster Leilou Marabou-trimmed patent-leather sandals: These heels are perfect for the New Years Eve bash — I mean, talk about putting your best foot forward for 2015 and plus they are ON SALE!
Garance Doré Equipment 'Merci Hearts' card and envelope set: We all love sending and receiving snail mail (hint, hint) and these prints from fashionista illustrator and Parisian gem Garance Doré are fantastic and even perfect as wall art.
NARS Limited Edition Laser Cut Eye, Cheek & Lip Palette: Subtle colors that go smoothly from day to night, a lip gloss, bronzer and blush! Talk about a perfect compact.
Byredo Parfums Gypsy Water Body Lotion: Recently discovered this line and I am somewhat smitten with its scent and feel. Though I know it's a bit pricey, sometimes it's OK to give our skin the boost and indulgence it needs and ALWAYS deserves.
Jennifer Meyer rose gold 'Wish Bone' pendant: So sweet and timeless, it will bring a smile to any gals' face! Check out some affordable alternatives here.
J.Crew cashmere infinity scarf: Cashmere (and of course, diamonds) are a girl's best friend, I can't think of a better way to stay cozy and bundled up during to brrrtastic days and nights. PS: It comes in a variety of great colors.
Saint Laurent Classic 3 sunglasses: Sunglasses are a staple (at least in my beloved Los Angeles) so why not go for a classic frame that can be worn over time and combined with some many sartorialisms day in and day out.
Chloe 'Marcie' small saddle bag: This French powerhouse has been a favorite of mine for years and this cross-body is practical, pretty and still rugged. Also, the leather is oh-so buttery and it's perfect for day looks, date night and beyond. Oh yeah, it comes in a variety of colors so you can even get more than one!
Come des Garçons Large Polka Dot zip-up pouch: I am a pouch person — makeup, business cards, lip glosses — you name it and this one is fun and playful and easy to locate (this is coming from someone that pretty much misplaces everything at all times)
Pierre Hardy Black 'Geo Cube' print passport cover: Need the perfect gift for the jet setter in your life? This passport cover will have you turning heads at the terminal and it's perfect for those airport 'where to' selfies because let's all admit it…there is something magical about pre adventure snapshot.
Diptyque Black Baies candle 10.2 oz: This is what I call the 'Rolls Royce' of candles! They are fragrant, luxurious and beautiful. Any space is instantly spruced up with one of these containers, which, by the way are reusable. They also have a few sizes available and fantastic gift sets.
Equipment 'Riley' silk top: Is a holiday season without plaid a festive one? Probably not, so this shirt from Equipment can be worn in those cold places with plenty of layering or those warmer spots, as it can be easily rocked for those during-hours holiday work parties or evening soirees with some sparkles and stilettos.
Madewell 'Hammered Bangle' bracelet sale: A fantastic stocking stuffer or a nice token for your best friend — I mean, you can never have enough bracelets, right?!?
See? I told you I'd have you covered! There is still plenty of time to shop whether is online (and take advantage of the deals, steals and free shipping scores) or braving the crowds 'tis the season to also indulge a little bit — even if it's a treat for yourself.
Ryzenberg On, is Signing Off
SHOP MY WISH LIST