Let's be honest — we've all done it and despite denial, there are still a few gifts to get. Well, since I know a thing (or two or three) about procrastinating, I give you the perfect guide for all those last-minute purchases.
What's even better? All of these fantastic finds don't require FedEx overnight, UPS or any sort of shipping war, as they are available at most shops nationwide. Plus, it's a known fact that procrastinators have all of the fun.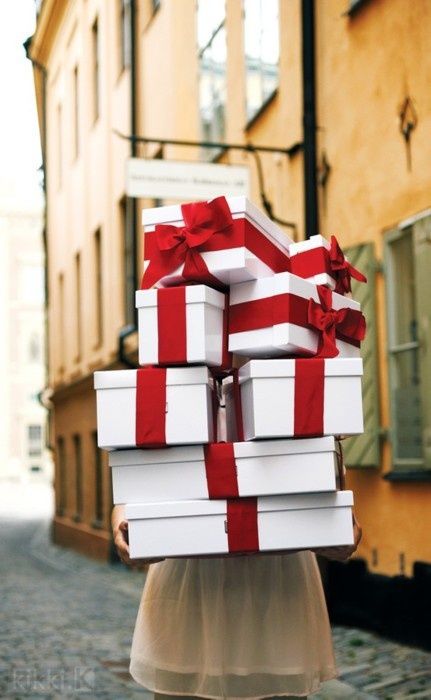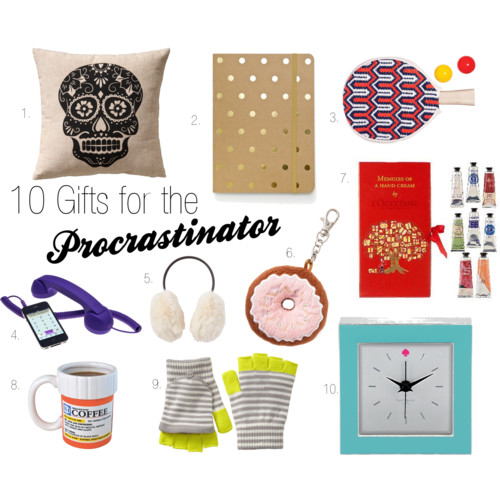 1. Sugar Skull Pillow: This is the perfect gift for the snooze button fan! After all, putting things till last minute starts early in the morning — well, 5 minutes later, that is!
2. Sugar Paper Kraft Journal: I know how important it is for me to carry a notebook! I don't trust digital calendars and I have a checklist for everything I need to do (and not forget) before I start my day. You can't go wrong with a journal that sparkles.
3. Jonathan Adler Ping Pong Set: Retro and fun and it's available at most retailers. Just make sure the recipient has a table (heads up).
 4. POP Phone BT Retro Handset: The procrastinator is always on-the-go and sometimes has to endure long phone conversations. Forget speakers and headphones and go with this cool retro design — which will make even the biggest techie nostalgic about rotary telephones.
5. Ear Warmers: Now that winter is here and ready to stay, pack up on all pieces to keep warm. Since procrastinators are always pressed for time, it is best to have a few of these necessities lying around.
6. Lesportsac Yum Yum Donut Keychain: Another infamous procrastinator characteristic is forgetting where stuff is (once again, speaking from personal experience). My key to avoiding lockouts are big chains that take half of my purse. People often ask me if I am a janitor, since I carry all my keys in one ring — this way it's impossible to leave behind.
7. L'Occitane Hand Cream Set: Luxurious and delicious, as this is a gift that will be appreciated by anyone without any judgement.
8. Prescription Coffee Mug: Need a feel-good gift? This will do the ticket, as it is quirky, fun and will keep the doctor away. This is another 'can't go wrong' present appropriate for pretty much everyone.
9. Old Navy Convertible Mittens: Yet another item every procrastinator needs plenty of! When I was in college in frigid Syracuse, I owned six pairs at a time and often misplaced and/or lost them. This is the trick — keep one in your purse, another one in your coat, a spare for emergency and the others for the casualties.
10. Kate Spade New York Cross Pointe Clock: Because every procrastinator needs a clock to press the snooze button on. Plus most likely, they will be running late for a very special date.
Et voila — no need for gift cards or Pot of Gold chocolate boxes! These gifts are fantastic, on trend and will be cherished by everyone. I mean after all, it's the thought that counts.
Ryzenberg On, is Signing Off